PADI Discover Scuba Diving
Safely experience the joys of scuba diving
If you are limited on time or you would like to try scuba diving without the commitment of a multi-day certification, then Discover Scuba Diving is your ticket to experience our beautiful reefs, full of life here in Playa del Carmen without any prior experience.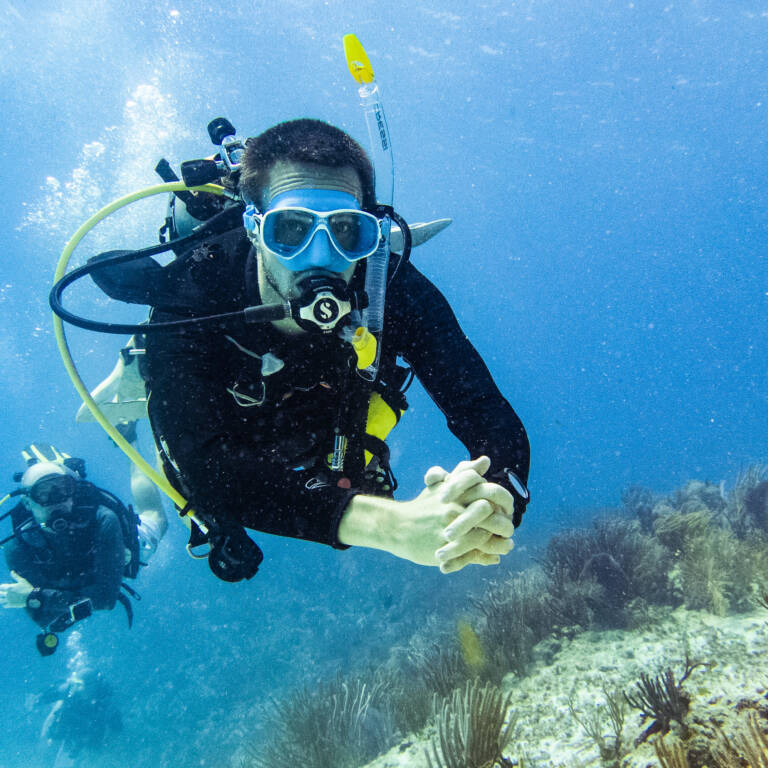 Book now…
Start your booking by selecting the date you would like to dive
PADI Discover Scuba Diving is a one-day experience that aims to introduce you to the world of scuba diving with minimal fuss. You will be able to join us for two of our beautiful dives here in Playa del Carmen.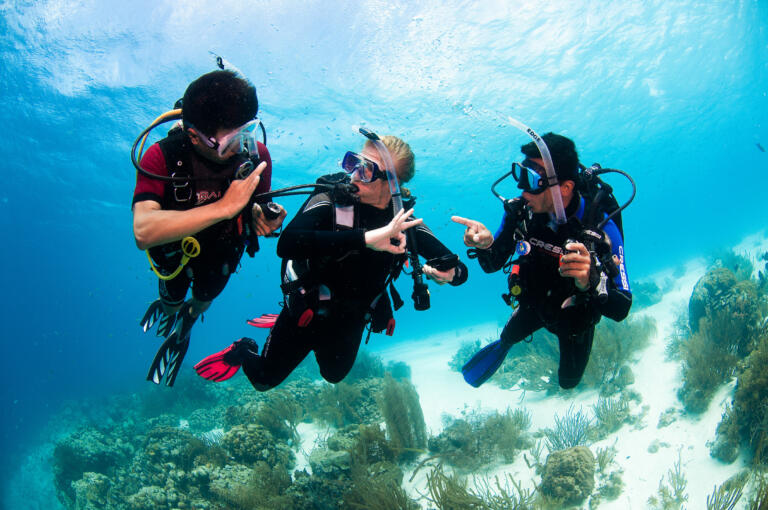 With this experience you will complete two dives in the Ocean after spending the morning in a swimming pool. In the pool you will learn some basic skills to keep you safe and ensure you can make the most of your ocean dives. You will be with a PADI Instructor for your entire day and they will accompany you closely in the ocean on two dives to a maximum depth of 12m/40ft.
Because this is an experience rather than a certification, the next time you want to go diving you will still be considered a non-diver and will need to complete another similar whole-day experience with pool training before ocean dives (although subsequent dives with us within a few days wouldn't require the additional pool training).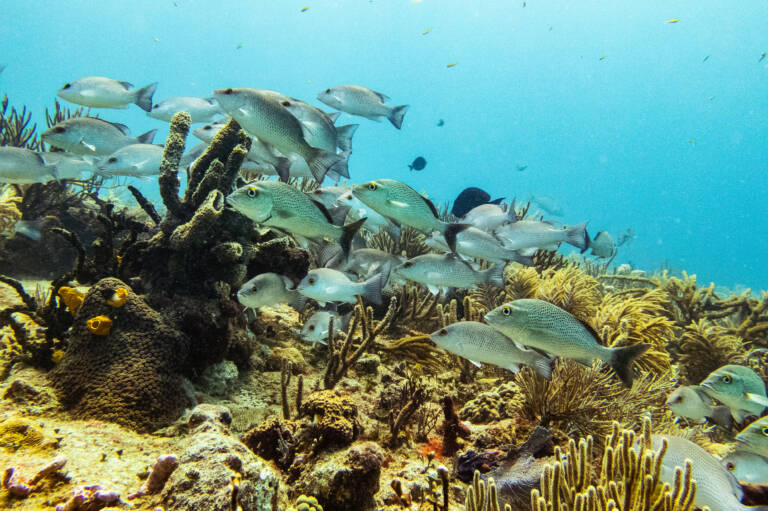 Here in Playa del Carmen we have healthy reefs with many schools of fish. We often see turtles, moray eels, stingrays and occasionally nurse sharks, eagle rays and manta rays. The visibility on average tends to be between 10m/30ft and 25m/80ft. There are currents here, but the reef has many spots for the fish to hide, so you can turn a corner and see a wall of fish in front of you.
Can we dive in Cozumel?
The diving is Cozumel is legendary and many people come from all over the world to experience the reefs in Cozumel. Our famous Direct-to-Cozumel service takes divers to the reefs in Cozumel daily. However the majority of these famous reefs are the fabulous wall dives. These are indeed wonderful dives, but they are deep (up to 30m/100ft) and challenging with generally stronger currents. Of course, Cozumel also has beautiful shallower dive sites that are suitable for Discover Scuba Diving, but these shallower sites are not all that different to the types of reef we find here in Playa del Carmen.
But I really want to go… If you have your heart set on diving in Cozumel then please get in touch with us and we may be able to arrange something. We will need to look at the possibility of sending a special guide to keep you shallower than any other divers we might have on a given day. We will also need to check how we can complete the confined water training before heading over to Cozumel on the direct boat (since this is a morning trip it's not possible to go to the pool on the same day as the ocean dives). Occasionally we can arrange an afternoon dive in Cozumel or we can arrange for you to complete the pool training on a prior day (the easiest way to do this is to complete the experience one in Playa del Carmen and then we would not need to conduct the pool training again during your trip).
Comfort and safety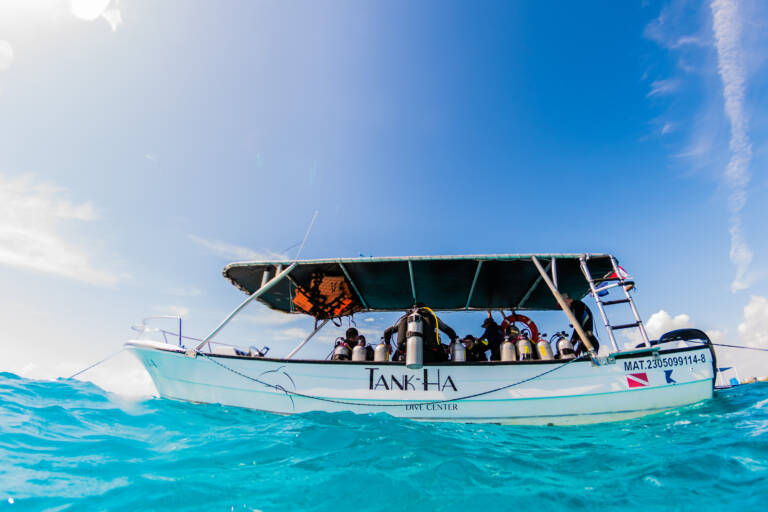 Our boats each have two engines, and the captains have been working on the dive boats here for many years. Their experience really helps when it comes to selecting the most suitable dive site in changeable conditions.
One of our captains is also a PADI Rescue Diver so he really knows what divers need.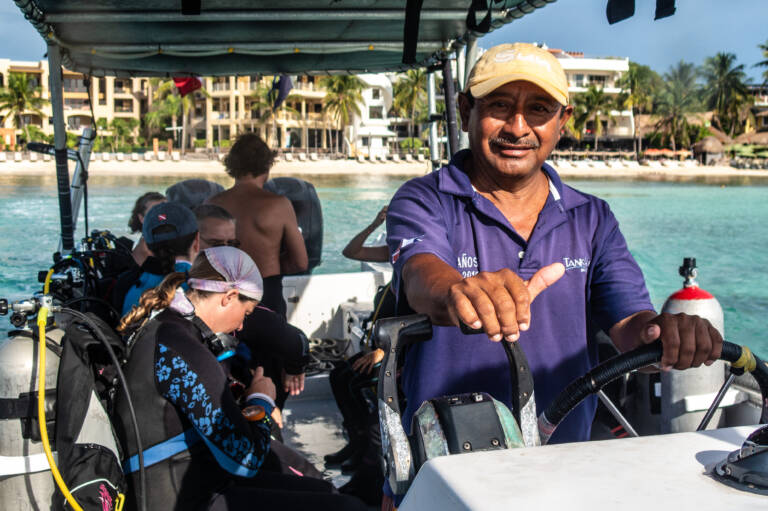 Our boats also have all appropriate safety equipment:
Emergency oxygen
First-aid kit
VHF radio
Life jackets
Our boats have plenty of space for you to prepare yourself prior to diving and have shaded areas to escape the Caribbean sun. We provide purified drinking water onboard as well as a freshly baked muffin.