Explore freshwater underground caverns in the Mayan Jungle
All certified divers are able to enjoy the unique and beautiful Cenotes of the Riviera Maya. The typical characteristics we can find are:
Stunningly clear water which seems like you are floating through air
Formations such as stalactites and stalagmites
Beams of sunlight creating laser-like effects
Haloclines where fresh and salt water meet
Fossils embedded in the rocks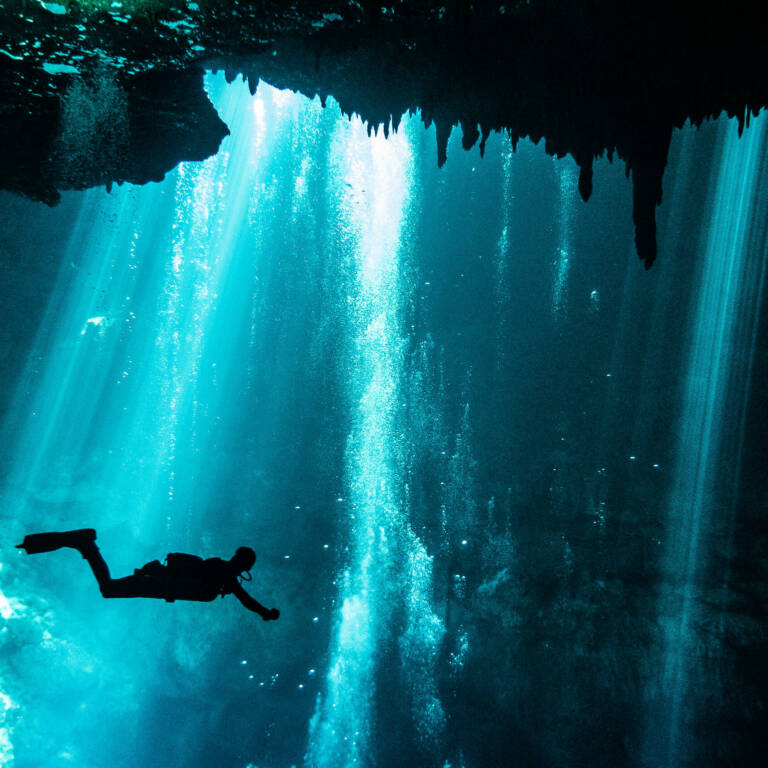 Book now…
Start your booking by selecting the date you would like to dive
What is this all about?
The Yucatan Peninsula is covered in sink-holes (cenotes) which allow access for us to cavern-dive in a truly unique underground world unlike any other dive you have done.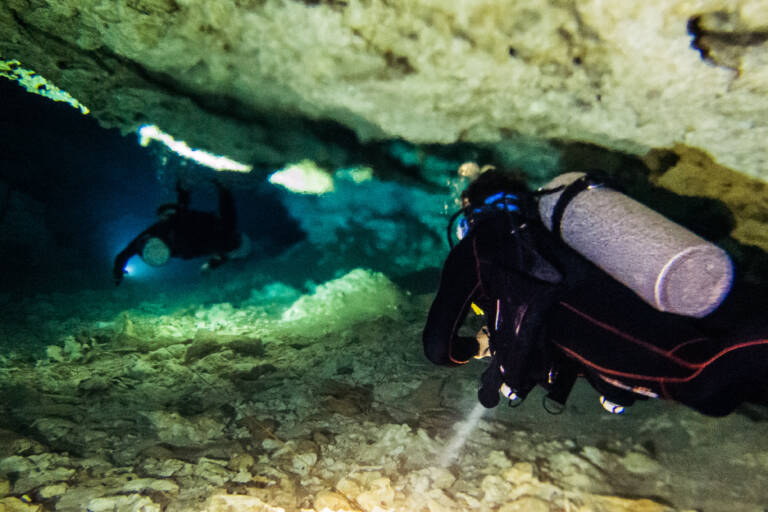 Cenotes are freshwater because we are essentially diving in the underground aquifer. The rain over time has carved out the limestone rock forming the caverns and cenotes we find today.
Most of the cenotes we visit are relatively close to the ocean (approximately 3-5km/2-3miles) and we can encounter saltwater at depths of approximately 12m/40ft and below. Where the freshwater and the more-dense saltwater meet is called a halocline and we see an interesting visual effect when the two mix (like how the air looks blurry above a hot road surface).
What will I see?
Each cenote has different characteristics. For example, some are better for formations and others can be better for light. To understand the type of things you'll see, take a look through the photos on this page. These pictures were taken by us on our cavern tours.
That being said, the typical things we see while cenote diving are:
Stunningly clear water, in which it often seems like you are flying through thin air
Formations such as stalactites and stalagmites
Rays of sunlight penetrating the water creating laser-like effects
A visual phenomenon called a "halocline" – where fresh and saltwater meet
Fossils embedded in the rocks
Am I suitable?
There are different Cenotes available for divers of all levels to enjoy. Being so unique to the area, this really is an experience you shouldn't miss while you are in Mexico.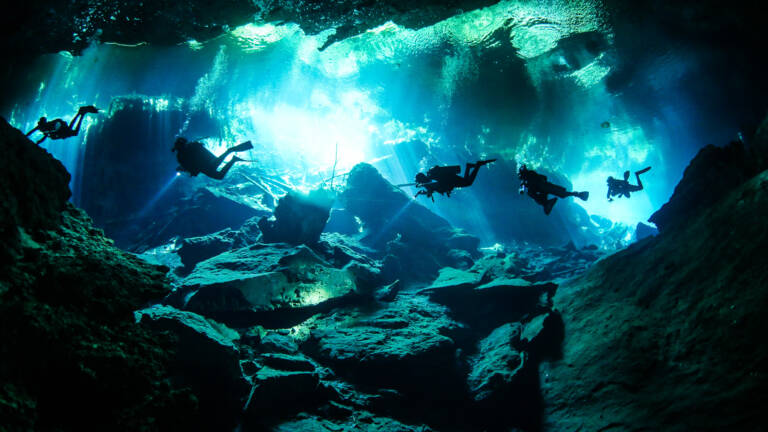 To safely enjoy cavern diving the most important consideration is your dive skill level. We will be diving in a delicate, overhead environment so it is critical you have good buoyancy control and trim (horizontal body position). Therefore it is important that you have dived recently so that you can determine if you believe your skill level will be appropriate.
Your safety and the preservation of the cenotes is the most important factor your guide will focus on during your dive. If your guide observes any issues with buoyancy or trim then we might need to end your dive early in order to abide by community regulations here in Mexico. It is not typically possible to train divers and work on buoyancy at the caverns.
If you are unsure your skill level will be appropriate and you are planning on diving for more than one day, we highly advise you plan to first dive in the ocean (either Playa del Carmen or Cozumel). This way we can assess your skills and give you tips and tricks to improve your buoyancy control and trim. All of our ocean dive guides are PADI Professionals and we are passionate about training. It would be our pleasure to help you.
Is it safe?
To keep the experience as safe and enjoyable as possible there are very strict rules here in Mexico.
Your guide will not only be a Scuba Instructor, but also a fully certified cave diver. The guide will lead a group, with a maximum of four divers. The guide is required to wear technical equipment including multiple tanks. However, you will be diving in the standard scuba equipment that you learned with.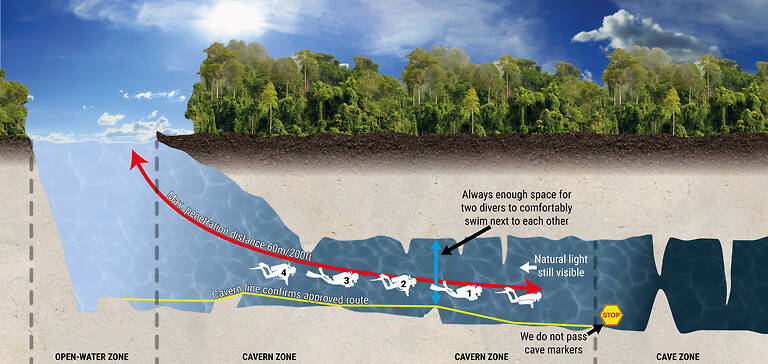 Cavern dives are NOT cave dives. When cavern diving…
You will never be more than a one minute swim from the surface
You will always be able to find your way out using natural light
You won't have to swim through any spaces that you cannot comfortably get two divers through side-by-side
What's the point if there are no fish or corals?
If you're in search of multi-colored corals then the cenotes are not for you. Although, fun-fact: you can find fossilized coral structures in the rocks from when the entire Yucatan Peninsula used to be the sea-bed. Also, technically there are fish in the cenotes, but yes, we must agree that there are not many and they are probably not the most stunning fish you'll ever see.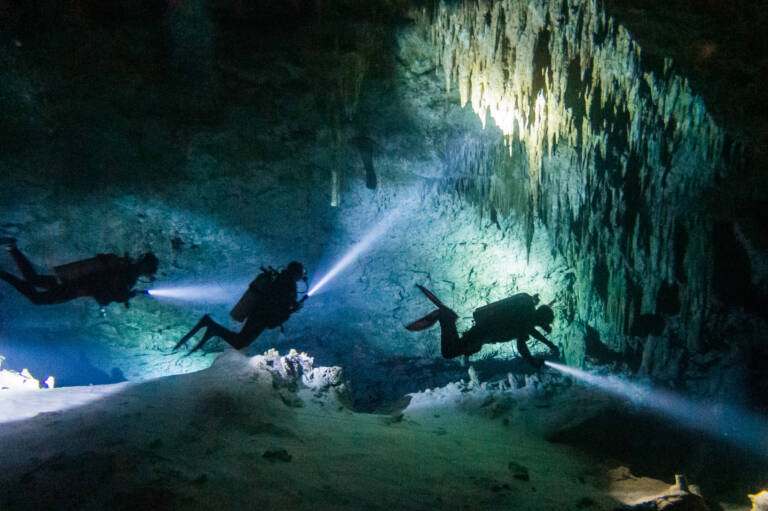 So – Why do we love the cenotes so much? Well, it is probably summed up by the phrase mind-blowing which is commonly used by our divers to describe their experience after diving in the caverns.
Cavern diving in the cenotes is unlike anything you will have ever done before. The water is incredibly transparent so you can see as far as your eyesight will allow you to. In photos it often looks like you are suspended in mid-air. There is also something exciting and mysterious about entering an underground world that is frozen in time.
How does it work?
The Cenotes are located in the jungle and are accessed via road. Your guide will drive you in a truck loaded with your dive equipment.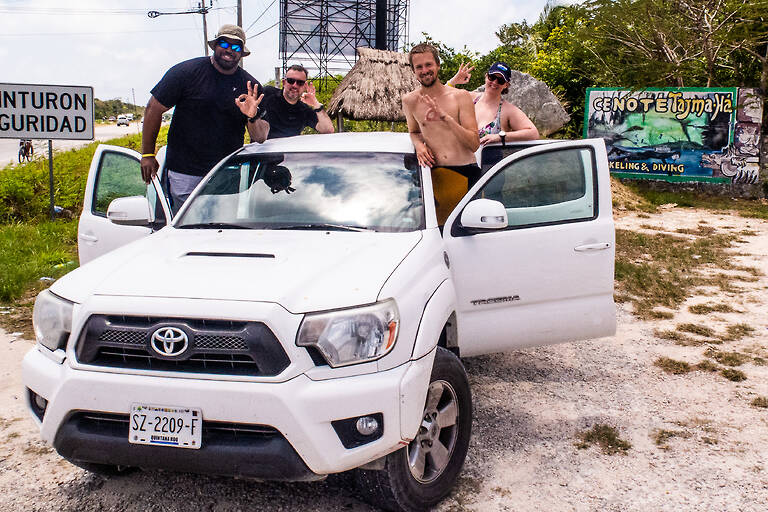 Before departing from the dive center your guide will help prepare your dive equipment. It can take up to an hour to drive to the cenotes, for this reason you'll wear your normal clothes during the drive and change into your dive gear once we arrive at the cenote.
During the journey your guide will give you a history of the formation of the cenotes and once at the cenote the guide will give you a detailed briefing for the specific dive.
Photography: The cenotes are found on private land owned by Mayans. Some cenotes have camera restrictions and others charge additional fees. Please check with us if you want to know more.
Pricing categories
Our cenote trips are divided into two categories, standard and premium. The premium cenotes are located a little further away and can be a little more challenging to operate and for this reason there is a small difference in the price. For all cenotes we include transportation from the shop to the cenotes (and back again!), a dive light and we also provide lunch. We also have an option of "Premium triple" for when we head to The Pit and then two both lines of Dos Ojos for a total of 3 dives, 3 tanks.
Cenote entry fees are not included in our price and will need to be paid in cash using Mexican Pesos on the day when we arrive at the Cenote. We don't include these fees in our price because entry fees vary between each of the cenotes and with so many cenotes available there are endless combinations which we can operate to give you the best possible experience.
Which Cenote should I choose?
If this is your first time diving in cenotes then we would strongly recommend the following:
One day of cenote diving

Open Water Divers: Two dives in Dos Ojos or one dive in Garden of Eden and one dive in Tajma-Ha
Advanced Open Water Divers: One dive in The Pit follow by one or two dives Dos Ojos (This is a premium triple)

Two days of Cenote diving

Open Water Divers:

Day 1

, two dives in Dos Ojos.

Day 2

, one dive in Garden of Eden and one dive in Tajma-Ha
Advanced Open Water Divers:

Day 1

, One dive in The Pit follow by one or two dives Dos Ojos (This is a premium triple).

Day 2

, one dive in Angelita and one dive in Tajma-Ha
Full details on the categories and entry fees for each cenote can be found below.
| Cenote name | Category | Min certification | Entry fee | Numebr of dives possible |
| --- | --- | --- | --- | --- |
| Dos Ojos (Barbie line & Bat cave) | Standard | OW | $400mxn | 2 |
| 1x Pit + 1x Dos Ojos (Barbie line) | Premium | AOW | $600mxn | 2 |
| 1x Pit + 2x Dos Ojos (Barbie line & Bat cave) | Premium triple | AOW | $600mxn | 3 |
| Chikin-Ha | Standard | OW | $350mxn | 1 or 2 |
| Eden | Standard | OW | $300mxn | 1 |
| Tajma-Ha | Standard | OW | $300mxn | 1 or 2 |
| Chac Mool (Kukulkan & Little Brother) | Standard | OW | $250mxn | 1 or 2 |
| Angelita | Premium | AOW | $350mxn | 1 |
| Car wash | Premium | OW | $300mxn | 1 |
| Casa cenote | Premium | OW | $200mxn | 1 |
| Dreamgate¹ | Premium | OW | $380mxn | 1 or 2 |
| Nicte Ha¹ | Premium | OW | $400mxn | 1 |
| Pit + Nicte Ha¹ | Premium | AOW | $600mxn | 2 |
| Tac Be Luum¹ | Premium | OW | $300mxn | 1 |
| Taak Bi Ha¹ | Premium | OW | $300mxn | 1 |
| Zapote (North)¹ ² | Premium | AOW | $350mxn | 1 |
| Maravilla (North)¹ ² | Premium | AOW | $300mxn | 1 |
| Azul-Ha (North)¹ ² | Premium | AOW | $300mxn | 1 |
| 7 Bocas (North)¹ ² | Premium | AOW | $300mxn | 1 |
| Kin-Ha (North)¹ ² | Premium | AOW | $300mxn | 1 |
LAST UPDATED: 29 July, 2023
Notes:
For the cenotes that offer only 1 dive, these would typically be paired with an additional cenote to make a total of 2 or 3 dives for the trip
Most of the cenotes are located to the south of Playa del Carmen (with the exception of those listed as "North"). It is not possible to do one cenote to the south and another from the northern zone on the same day
¹ These cenotes are particularly challenging and require a very high level of buoyancy control and experience. They are typically suited to divers with 50+ dives and we will need to complete at least one day of cavern diving with you prior to taking you to one of these cenotes
² Nitrox is highly recommended for these dives, since we complete two deep dives on the same trip
We do our best to keep this list up-to-date, but in the past the cenotes have made small changes to their prices with little or no warning. If we become aware of a price change prior to your dive we will do our best to update you, but if we fail to do so then

we will cover the difference in price

for the entry fees