Tank-Ha offers the best way to dive in the Cozumel Marine Park using a direct boat straight from Playa del Carmen.
The stunning reefs and famous walls are now easy to access directly from Playa del Carmen. This means you can easily complete two outstanding dives before getting back to Playa del Carmen to enjoy the rest of your vacation with family and friends.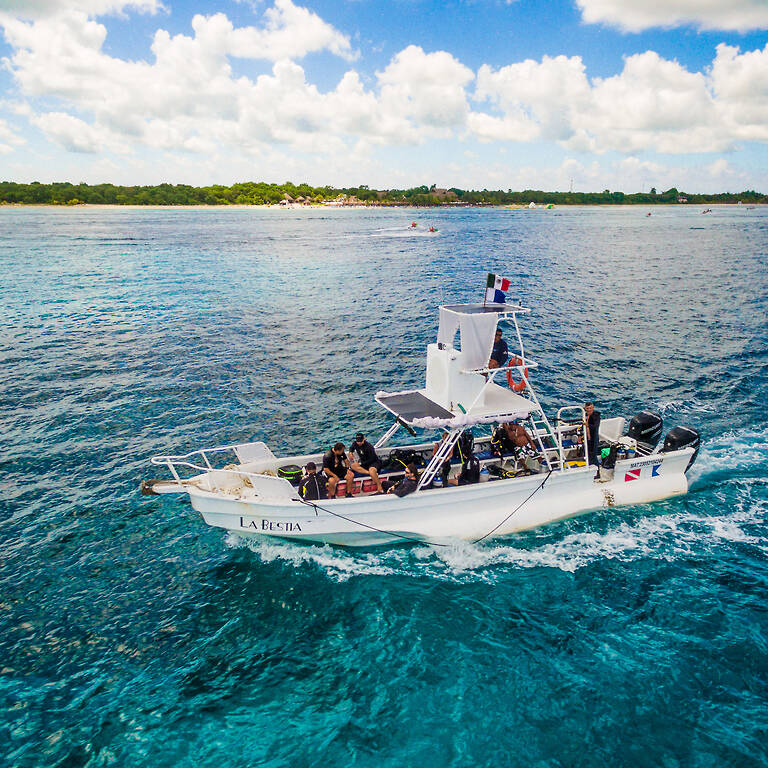 Book now…
Start your booking by selecting the date you would like to dive
Cozumel is a fantastic diving location with world famous wall dives and beautiful colorful corals that grow to spectacular sizes.  We generally get amazing visibility here, often between 20m/65ft and 40m/130ft.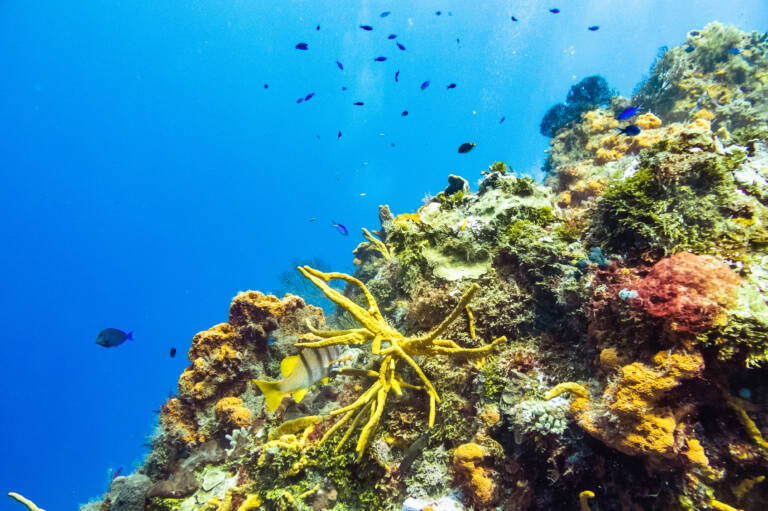 With the strong currents we don't get the same amounts of schooling fish that we get here in Playa del Carmen. However, in the National Marine Park the species you find are often large and beautiful as they have a chance to live long and healthy lives. We have direct access to the National Marine Park at no additional cost to you.
What will we see?
The famous wall dives in Cozumel typically start at approximately 18m/60ft and descend nearly vertically to hundreds of meters. To really appreciate the scale of the wall and to see some of the largest coral formations we often descend to approximately 26m/86ft. Our first dives are typically a site between Palancar and Punta Tunich (inclusive).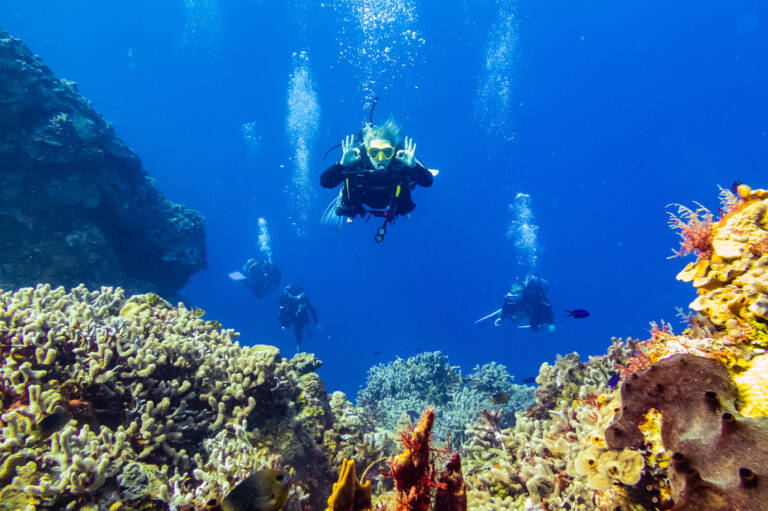 As we whiz along the wall we will be able to see many colorful hard and soft corals. It's a good idea to keep an eye-out to the deep blue as well, because we will occasionally get to see a gracious eagle ray swimming by.
Also take a moment to take a look up to the surface, with year-round stunning visibility you will be amazed as how clearly you can see the clouds.
From the deep start, we can then perform a multi-level dive – heading to a shallower portion of the reef according to gas consumption and no-decompression times.
After a relaxing surface interval, during which we will provide you with water and snacks, it will be time to head for dive two. Our second dive is usually shallower than the first dive and a little further north in the Marine Park, typically a site between Yucab and Paraiso (inclusive).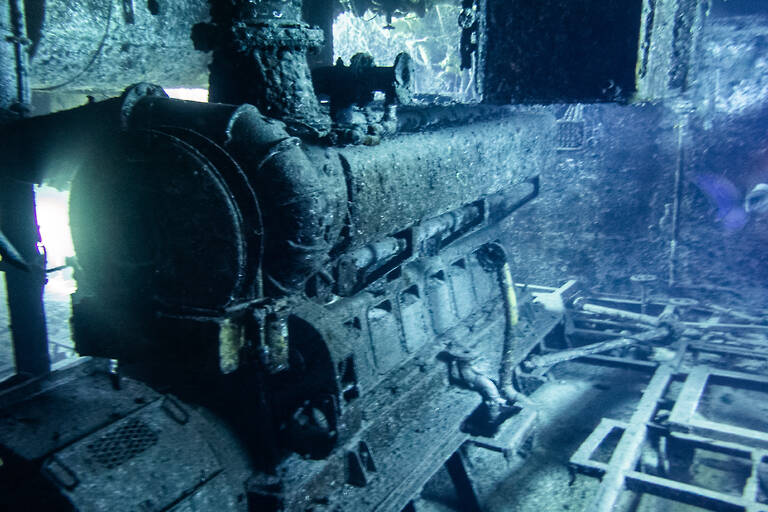 These sites include the fantastic C53 shipwreck, also known as the Felipe Xicotencatl (so you can see why we call it the C53!). The wreck was purpose-sunk in the 90s so has become home to a lot of corals and fish. The large passageways and many entry/exit points means that we are able to penetrate this wreck safely, even without the PADI Wreck Specialty.
Aside from the wreck there are also a range of shallower reefs that offer fantastic colors and a chance to spend a nice long dive enjoying some of the best scenery offered by any dive site in the world.
How does it work?
Tank-Ha was the first dive shop to operate the Direct-to-Cozumel service back in 1997 and we are fortunate to have access to the only trips that go directly to Cozumel.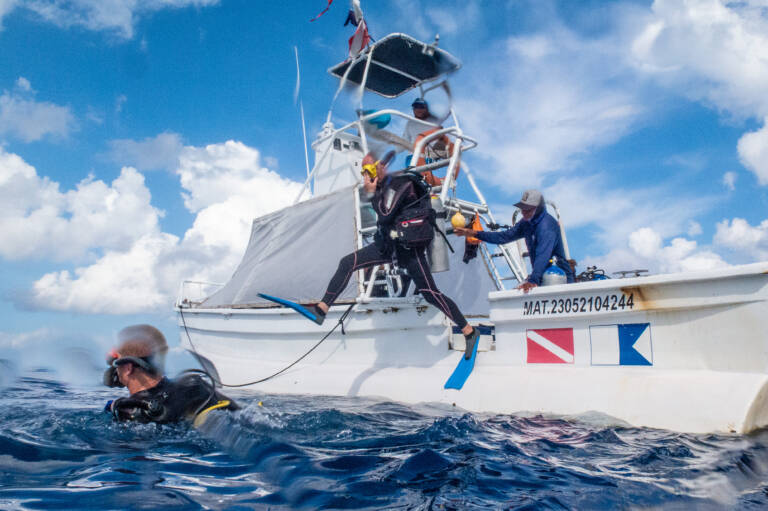 The boat you board in Playa del Carmen will take you directly to the reefs in Cozumel for your dives. This saves a lot of time and hassle as you do not need to worry about getting to the ferry and then possibly a taxi to get you to a different dive shop on the island with all your equipment in tow.
You simply meet here at Tank-Ha at 08:00, the crossing to the first dive site usually takes 45 -60 minutes depending on the ocean conditions. Water and snacks are provided to you during the surface interval. After two dives on the stunning Cozumel reefs you're usually back in to the dive shop between 13:30 and 14:00.
Going a little deeper
As mentioned above, the typical Cozumel dive is on the walls which are a little bit deeper than Open Water training limits. However this doesn't mean that you can't still get the opportunity to see the beautiful reefs as an Open Water diver. (Advanced Open Water Divers or above do NOT require this training!)
We can provide you with PADI Deep Adventure training (+$20) to give you the skills and knowledge to dive to depths of up to 30m / 100ft while you dive with us in Cozumel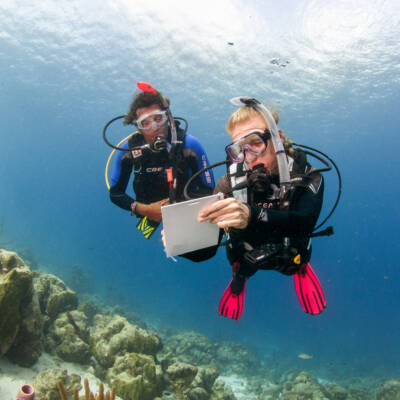 The Deep Adventure dive involves reading the Deep chapter of the Advanced Open Water manual, answering a series of questions in your own time prior to arriving (we will send you materials electronically). On the day of your dive the instructor will review your answers as part of an extended briefing.
Please note, according to PADI Training Standards, for you to be eligble for the deep adventure training we need to conduct a prior assessment of your diving skills (this can take place during a dive or in the pool during a skills refresh).
The instructor will then accompany you on your dive and run through a couple of in-water exercises with you. The in-water exercises typically don't take long to complete and don't detract from your enjoyment of the dive.
Why do you do this?
PADI Open Water divers are trained to a maximum depth of 18m / 60ft. We adhere to PADI recommendations and don't take divers deeper than their training limits. This gives you many benefits, including that travel/dive insurance companies will often only provide coverage for a "depth to which you are trained" and of course our approach will also keep you as safe as possible.
After the dive you will receive a certificate of completion to confirm your participation in the training. At the discretion of other dive centers, this certificate can be honored for future dives which require deep training and can also be used to count towards your full Advanced Open Water course when you choose to continue your learning.
The Deep Adventure dive is one of the five dives you would do as part of the PADI Advanced Open Water course and therefore you will need to complete the relevant PADI paperwork with us. As with all PADI courses you should review the medical questionnaire.. As a 5-star dive center we are passionate about teaching and improving skills, so if you have enough time during your vacation then instead of just completing the deep dive, you might want to consider completing the full PADI Advanced Open Water course. The course is a great course with a good balance between theory and practical exercises. The course really does not detract from the enjoyment of your dives and you will leave with a new level of skill, confidence and certification.