Becoming a certified diver can change you life
We may not offer the cheapest or quickest courses, but as a 5-Star SDI and PADI Dive Center we are proud of the level of training we provide.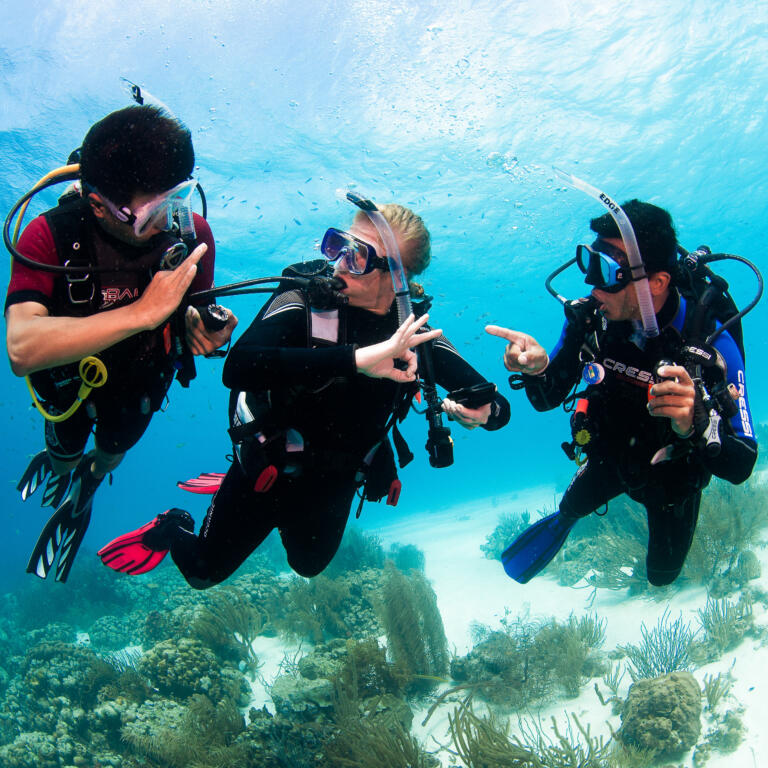 Book now…
Start your booking by selecting which type of course you would like to complete (explained below)
You can also select the date you would like to start your course.
Teaching the Open Water course is a huge responsibility because we are transforming you from a non-diver to a certified diver, equipped with the knowledge and skills to ensure a lifetime of diving worldwide. When learning to dive – the skill, experience and patience of the instructor are probably the most important factors in determining how successful and beneficial the course will be for you.
Completing your SDI or PADI Open Water course with Tank-Ha in Playa del Carmen is a great decision because our reefs are healthy with many schools of fish. We often see turtles, moray eels, stingrays, nurse sharks and occasionally eagle rays.
Our price includes the Open Water eLearning platform, certification fees, pool entrance and transfers, scuba equipment and dive computer rental. Essentially… there are no extra charges to pay!
What's involved?
The Open Water course is comprised of three main areas…
Theory – 6-10 hours of online interactive training which you can complete before arriving here in Mexico
With our standard PADI course you will need to watch 3½ hours of videos during your training here in Mexico. You can avoid this requirement by selecting the SDI course, or purchasing the premium PADI eLearning package (which includes the videos for you to watch online before you arrive here).
Pool – A series of training sessions to give you the the skills and knowledge to understand how to use your scuba equipment, how to control yourself in the water and emergency procedures
If you would like to avoid this pool training day while on vacation, you may wish to contact us to discuss the Open Water Referral course in which you will complete the theory and pool sessions with your local PADI or SDI instructor, prior to joining us to complete your course with four training dive in the ocean.
Ocean – 4 Open water training dives from our boat on beautiful coral reefs right here in Playa del Carmen. During you Open Water training dives our PADI or SDI instructor will continue to build upon the skills you learnt in the pool and your be able to enjoy stunning dives while receiving world-class training.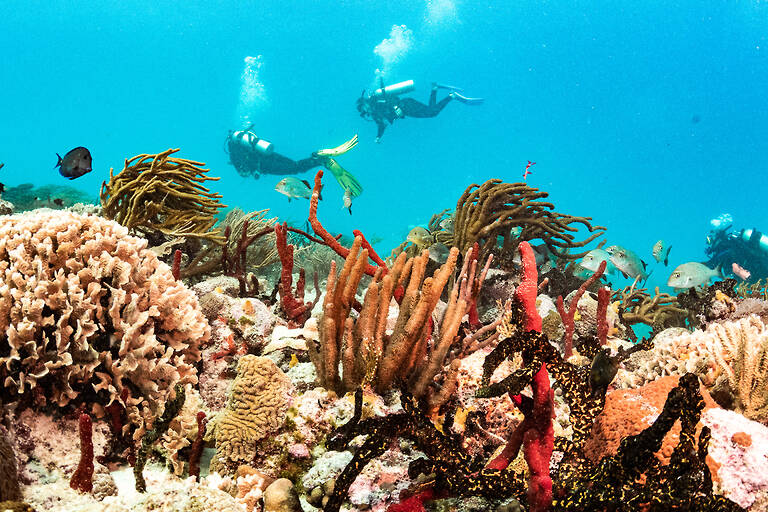 The visibility on average tends to be between 10m/30ft and 25m/80ft. Although we do have ocean currents here, these are not as strong as you typically find over in Cozumel and therefore Playa del Carmen is a great place to learn to dive.
There are usually many places for the fish to hide along the reef, so you can turn a corner and see a wall of fish in front of you.
Why learn with Tank-Ha
Resources: Because we own three dive boats, we can tailor a dive plan to suit your course requirements. Taking you to the best dives sites as you progress through your training (12m/40ft sites during your first two dives and 18m/60ft sites during your third and fourth dives). We conduct all the training dives on stunning coral reefs rather so you can make the most of learning to dive in the Caribbean.
Knowledge: Our experienced instructors speak multiple languages have a proven track record of teaching to the highest standards possible. We have a passion for sharing our knowledge with you so you can make the most of your course and leave as a skilled and confident diver.
Service: We are a 5-Star SDI ad PADI Dive Center and we constantly aim to provide the highest level of service possible including many options to help you continue to improve your skills with many courses and specialties available so can keep on learning and enjoying exciting new dives.
Equipment: We invest heavily in high quality dive equipment which is comfortable and reliable. This equipment is provided free-of-charge during your course and we also include the use of a dive computer during your training. Dive computers are expensive, but we believe the investment is worth it because they are the future of recreational diving so we would rather take this approach rather than the cheaper, but antiquated offline recreational dive planner (aka RDP or dive table).
Safety: Diving can be an incredibly safe, relaxing and enjoyable activity when things are done correctly. We maintain our excellent safety record by ensuring we have appropriate safety equipment and procedures in place for all of our dives.
Should I choose PADI or SDI?
What's the same?
The learning requirements for both the PADI and SDI Open Water course is standardized by the World Recreational Scuba Training Council (WRSTC) of which agencies such as PADI, SDI, SSI, and NAUI are all members.
Both agencies provide lifetime dive certifications that are accepted worldwide. You can also continue learning new dive skills with any other agency.
What is different?
SDI instructors are given the flexibility to sequence the learning activities in the most appropriate way. This means instructors can adapt to a student's requirements or if bad weather limits our ability to complete an activity we can continue the training on another dive. PADI does not offer this flexibility and this can occasionally mean that we will need to reschedule an entire extra dive if a single skill is not able to be completed in sequence.
The standard SDI eLearning system provides all the required learning materials and exams to you prior to arriving here in Mexico. You will need to purchase the PADI Premium eLearning course in order to watch the required video content online prior to arrival.
SDI provides both physical and electronic certification cards to allow you to prove your certification status, whereas the PADI provides the physical card but the eCard is an optional extra.
What does the schedule look like?
You will complete all of your theory at home in advance on your computer, laptop or mobile device. Many people find it a lot more enjoyable when they can avoid completing the academic portion of the course whilst on vacation in a beautiful tropical destination like Playa Del Carmen. The course takes three days to complete, but the days do not have to be consecutive – If you have specific days you would like to complete the course, just let us know.
If you choose the standard PADI course you will need to watch 3½ hours of videos during your training here in Mexico. You can avoid this requirement by selecting the SDI course, or purchasing the premium PADI eLearning package (which includes the videos for you to watch online before you arrive here).
Day 1
Arrive at 08:00 to complete a quick review of the eLeanring theory to make sure you understood everything from the online training.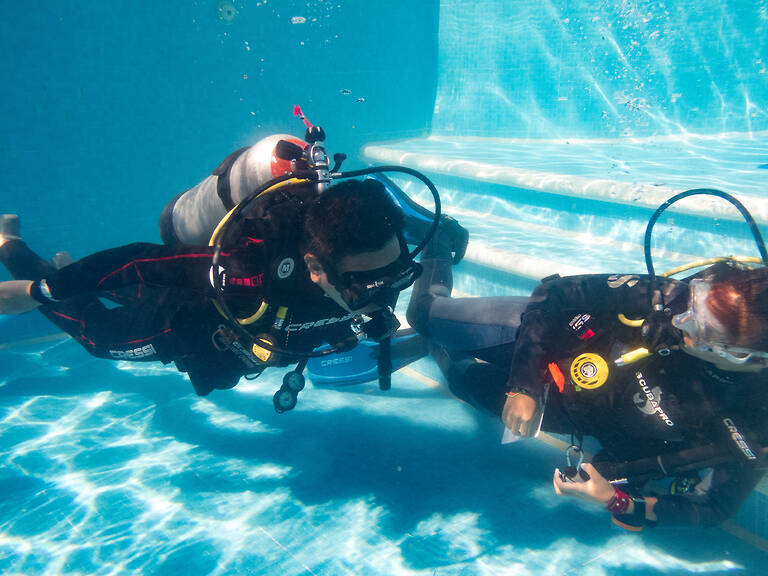 We will prepare your dive equipment and head to a purpose-built diver training pool. At the pool you will spend the day going through all the confined water sessions, You will learn many of the skills you will need to dive safely as a certified diver. We will also need to check your general abilities in the water by having you float for 10 minutes on the surface of the water and complete a 200m swim (300m if you choose to complete the swim with a mask and snorkel).
Day 2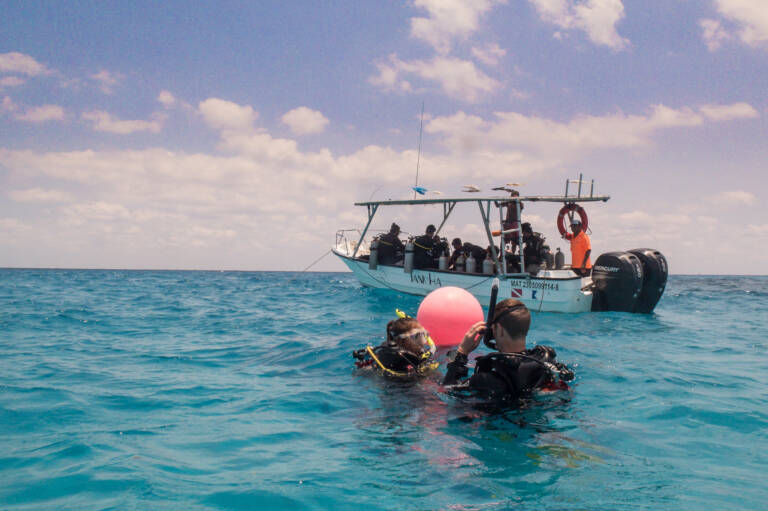 Arrive at 12:00 to complete two dives in the ocean where you will be diving on two beautiful coral reefs up to 12m / 40ft. On these dives you will be repeating some of the skills that you completed in the pool. Prior to departure, your instructor will provide you with a thorough briefing of everything you will do on the dives and help you prepare your equipment. You generally get back at around 16:30.
Day 3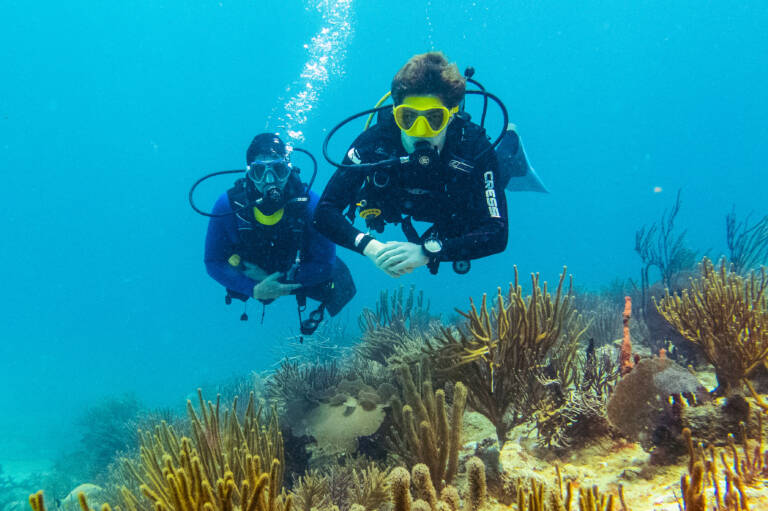 Arrive at 08:00 and complete another two ocean dives. This time you will be diving up to 18m / 60ft and a little further south where we have some very interesting reefs to explore. On these dives you will again be completing some specific training skills, but these add to the enjoyment of the dives. You generally get back at approximately 12:30.
Once you come back from your last day of ocean diving we will take your photo and certify you as an Open Water Diver, which is a certification you will have for life. You will be certified online and issued with a certification immediately, with a card will be mailed to your address. If you choose to learn with SDI you will also receive an electronic certification card, allowing you to prove your certification to other dive shops even without the physical card. If you wish, you can also pay an additional fee to receive a physical card printed right here in the dive center. If you choose to learn with PADI, an electronic certification card is an optional extra which you can choose to purchase when we certify you. Once you are a certified Open Water diver you will be able to start to enjoy the full range of opportunities we have here in Playa del Carmen including diving in the freshwater Cenote caverns and on the stunning reefs out in Cozumel.
Comfort and safety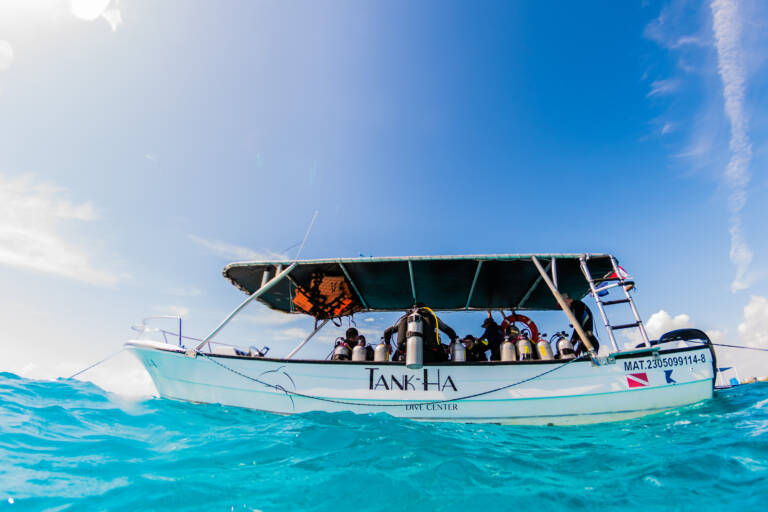 Our boats each have two engines, and the captains have been working on the dive boats here for many years. Their experience really helps when it comes to selecting the most suitable dive site in changeable conditions.
One of our captains is also a PADI Rescue Diver so he really knows what divers need.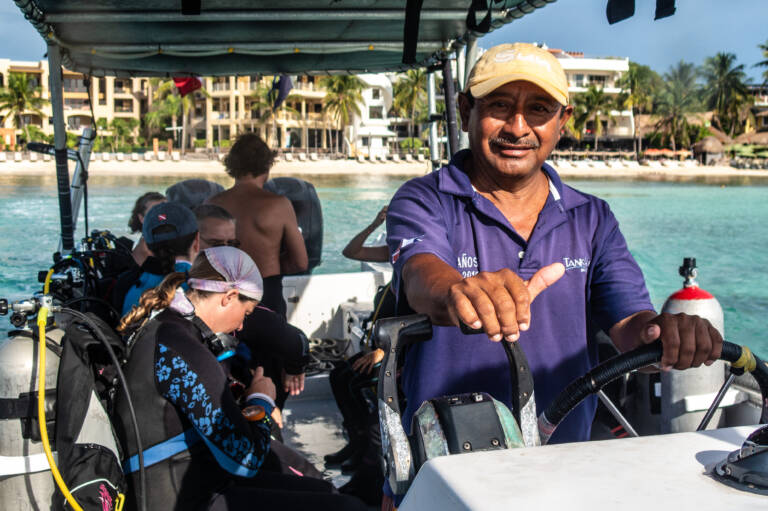 Our boats also have all appropriate safety equipment:
Emergency oxygen
First-aid kit
VHF radio
Life jackets
Our boats have plenty of space for you to prepare yourself prior to diving and have shaded areas to escape the Caribbean sun. We provide purified drinking water onboard.
Can I complete the course in a Cenote?
Although the Cenotes offer experienced divers the opportunity to complete stunning cavern dives, the open-water areas of these Cenotes have no corals and not a lot of fish life. They are also not very deep so this would prevent us from training you to the full depth of the Open Water training. So we think the best option is to complete the training in the ocean, where you will have a more enjoyable experience. Don't forget, once your are certified we can then take you to the cavern area of the cenotes after you have completed the course to enjoy the best the cenotes have to offer.