Swim with the biggest fish in the ocean!
An incredible day out. These gentle giants and beautiful and graceful in the water.
1 day snorkelling excursion: $240
10% discount when diving with us for three or more days.
All marine park and dock fees included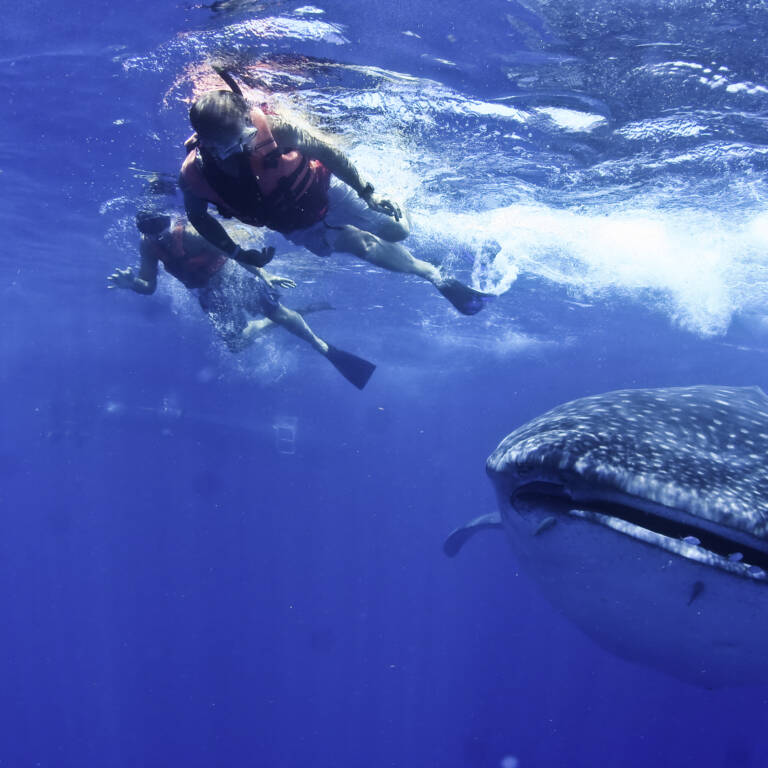 Book now…
Start your booking by selecting the date you would like to go
$240 per person
(including all marine park fees!)
10% discount available if you book 3 or more days with us.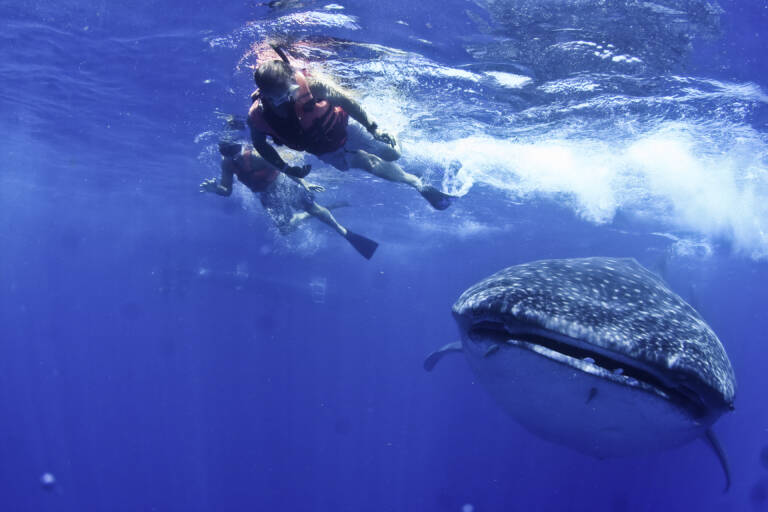 Whale sharks are the biggest fish in the ocean and normally very elusive. Many people comment on having spent years exploring different parts of the ocean yet never spotting a whale shark. Fortunately here in Mexico June to mid-September is whale shark season. We often see whale sharks in large numbers and off the North East coast of the Yucatan Peninsula.
Recognizing the important and fragile ecosystem these huge fish thrive in, the Mexican government has designated the area as a National Marine Park. Although diving is not permitted in this park, snorkeling alongside these gentle giants is a once in a lifetime experience for many people.
What is a whale shark?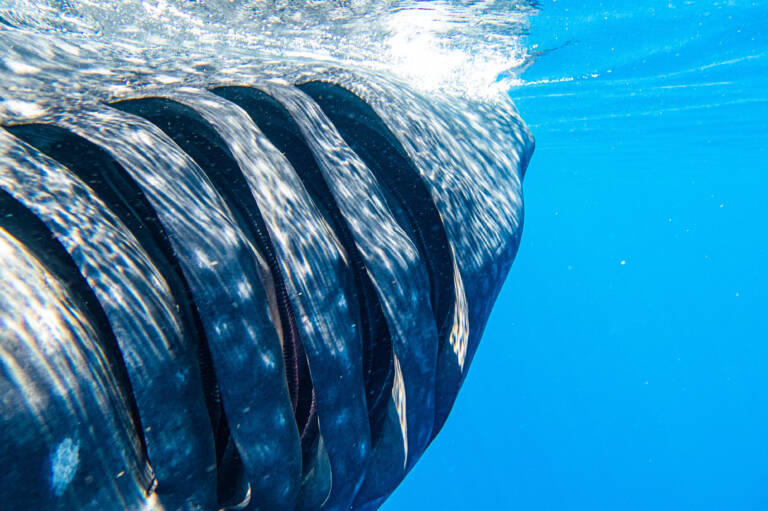 Don't be fooled by the name, a whale shark is a shark, not a whale. They earn their "whale" name due to their size and feeding behaviour. Whale sharks are filter feeders and eat plankton, just like some whales. To feed, they swim close to the surface, allowing water to flow into their mouths before it leaves through a series of filter pads.
Scientists estimate that they may live between 80-130 years, with males only reaching sexual maturity at 25. Whale sharks usually grow up to 9m/30ft, although larger ones have been found.
Are they dangerous?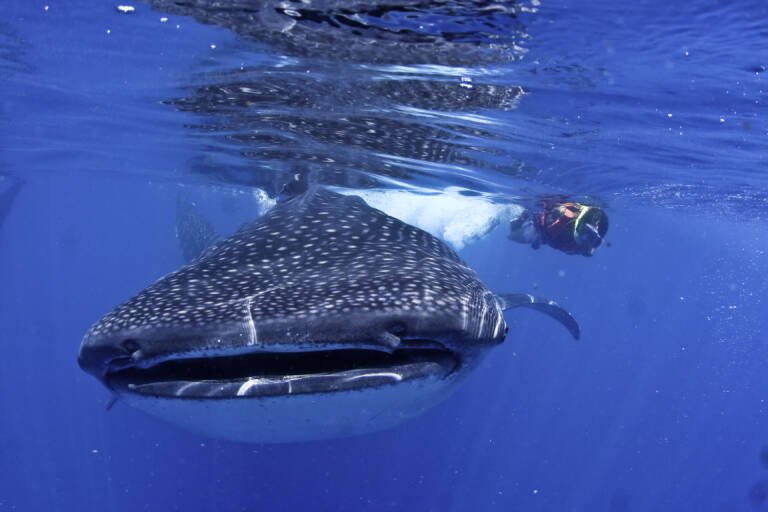 Many people hear the word shark or look at the size of the mouth and have concerns. In reality, their large mouth is used only to allow water to flow past their filter feeds pads. By filtering the water they can eat a huge amount of tiny plankton (copepods, krill, fish eggs and larvae).
We stay away from the whale sharks at all times in order to protect them from us. As with most animals we pose a much greater threat to them than they do to us. To specifically answer the question we hear a lot… No – You're not going to get sucked in to the mouth of the whale shark.
How does it work?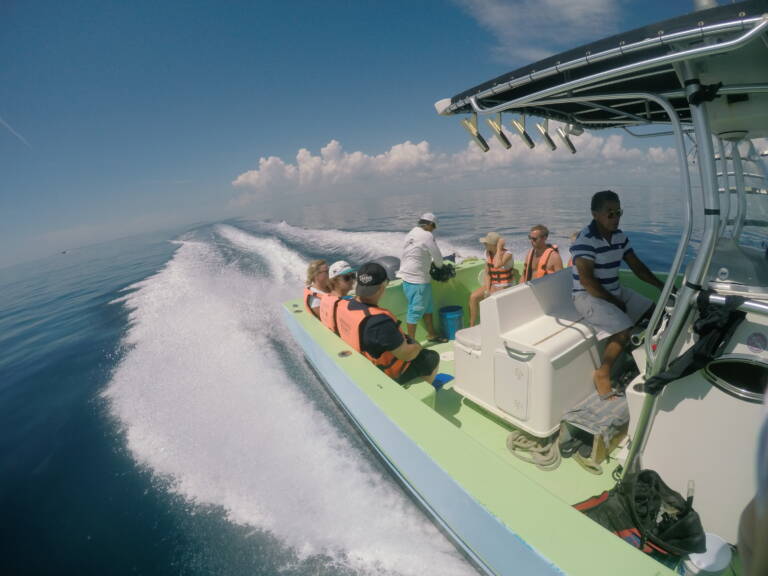 The Whale Shark tour includes an early morning pick-up from your hotel and breakfast at a marina in Cancun. The boat will have two crew members and the maximum group size is ten people. Your snorkel equipment (including a life vest) will be provided.
You will head out on the boat and travel for approximately one hour to find the whale sharks. The boat will remain in this area while you snorkel with them in groups of two with a guide. Ocean temperatures are around 30C/86F.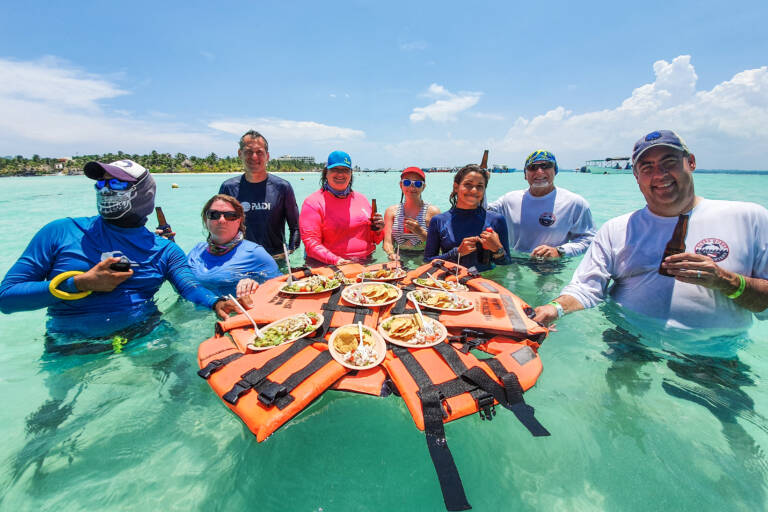 Once everyone is finished with the sharks, you will come back towards Isla Mujeres for a little snorkelling and a freshly prepared lunch. After lunch, we will return to the marina for your transport back to your hotel.
Is this for me?
To make the most of this activity you should be physically fit and comfortable snorkelling. You will be able to observe many whale sharks from the boat and the crew will do their best to position you in a great position to see the whale sharks in the water.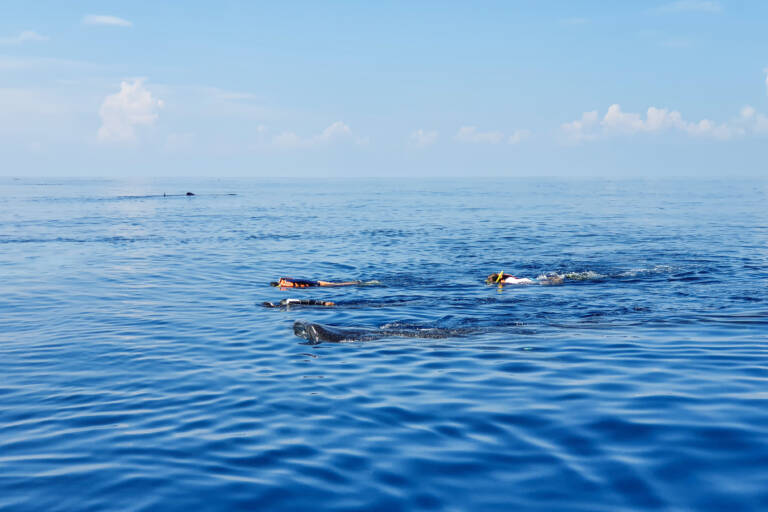 However, in order to have the maximum amount of time with a whale shark you will need to be able to swim reasonably fast while snorkelling and using fins.
Whale sharks are huge, so although they can look slow and graceful you may find it challenging to stay next to them in the water.
You should also remember that this activity takes place in the middle of the ocean, over 1 hour from land so the ocean can be wavey and you may wish to take anti-seasickness medication prior to departure (dramamine will be available free of charge during your transportation from your hotel to the marina in Cancun).
The following conditions are not recommended for swimming with the whale sharks…
limited physical mobility
cardiac, respiratory or back problems
ailments that can lead to loss of consciousness
fear of water or no basic swimming skills
pregnancy
More information
In the unlikely event that we don't find the whale sharks and you don't get to see them, then we can reschedule you for another day or provide a refund.